Kitchen cabinet door styles and types play a huge role in the final look and feel of any kitchen.
After all, apart from your countertops and appliances, the thing you will see the most are those cabinet doors. 
So how do you know what style of cabinet door to choose if you want a more traditional look?
Or how do you choose your cabinet door type if you want a flush, modern look?
At iCabinetry, we offer a variety of different cabinet door types and styles that guarantees you'll find the best fit for your kitchen style.
And in this guide, we will walk you through the different cabinet door types and styles to help you make the right choice for your perfect kitchen.
4 Cabinet Doors Styles 
The 4 most popular cabinet door styles are shaker, slab, raised panel, and recessed panel doors.
Which door style you choose will depend on your personal style and the kitchen look you're going for.
Shaker Cabinet Doors 
Shaker cabinets are the most popular kitchen cabinets in the US, as they seem to always be on trend and fit modern and traditional style kitchens (and everything in between!).
Shaker cabinet doors have a flat center panel, square edges, and very minimal detailing.
Their unadorned simplicity makes them very popular and versatile for any style kitchen.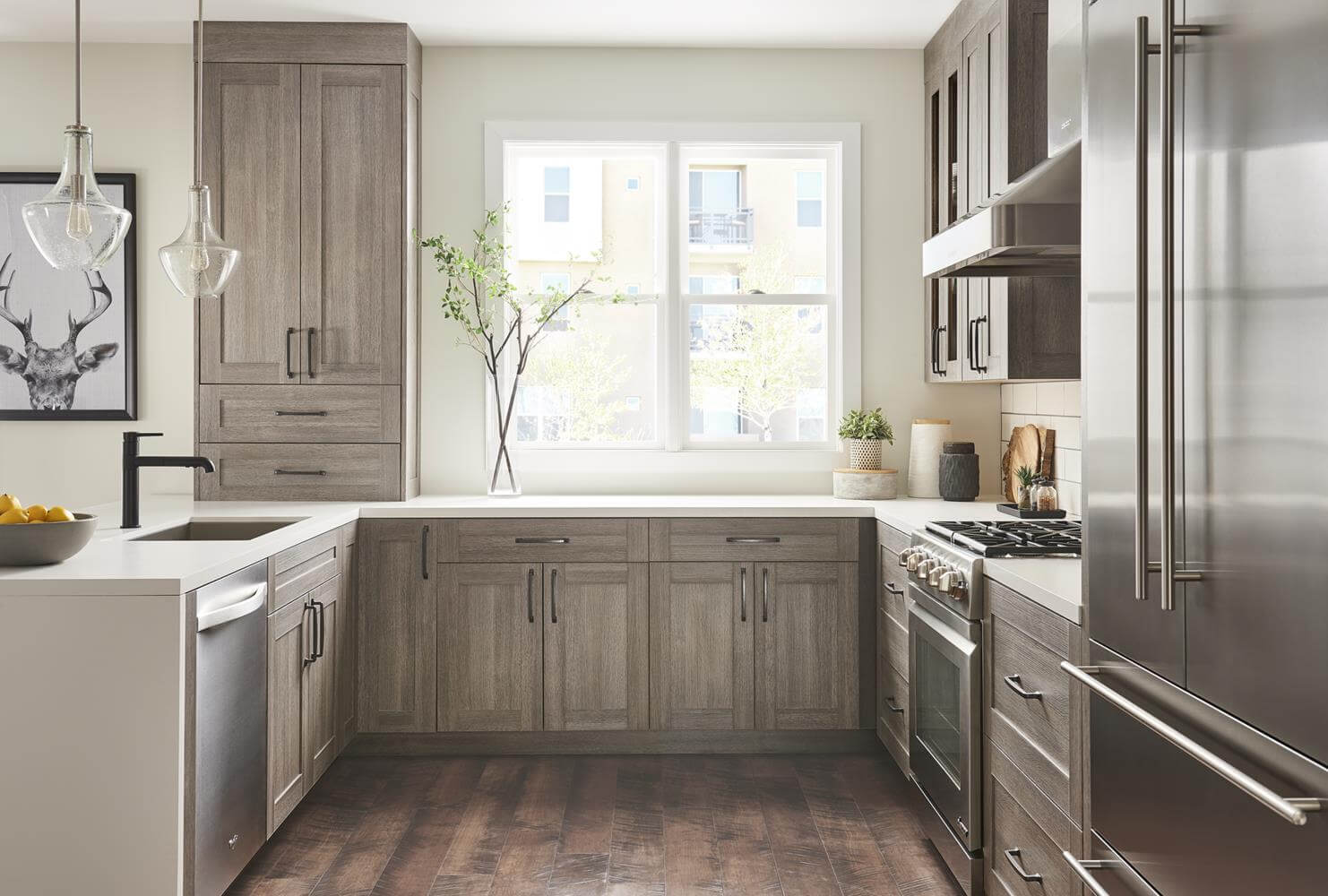 Slab Cabinet Doors
Slab cabinet doors are perfectly simple and modern. These doors have a completely flat panel with no detailing and without frames. 
Slab doors are increasing in popularity because they offer a very contemporary look for modern style kitchens.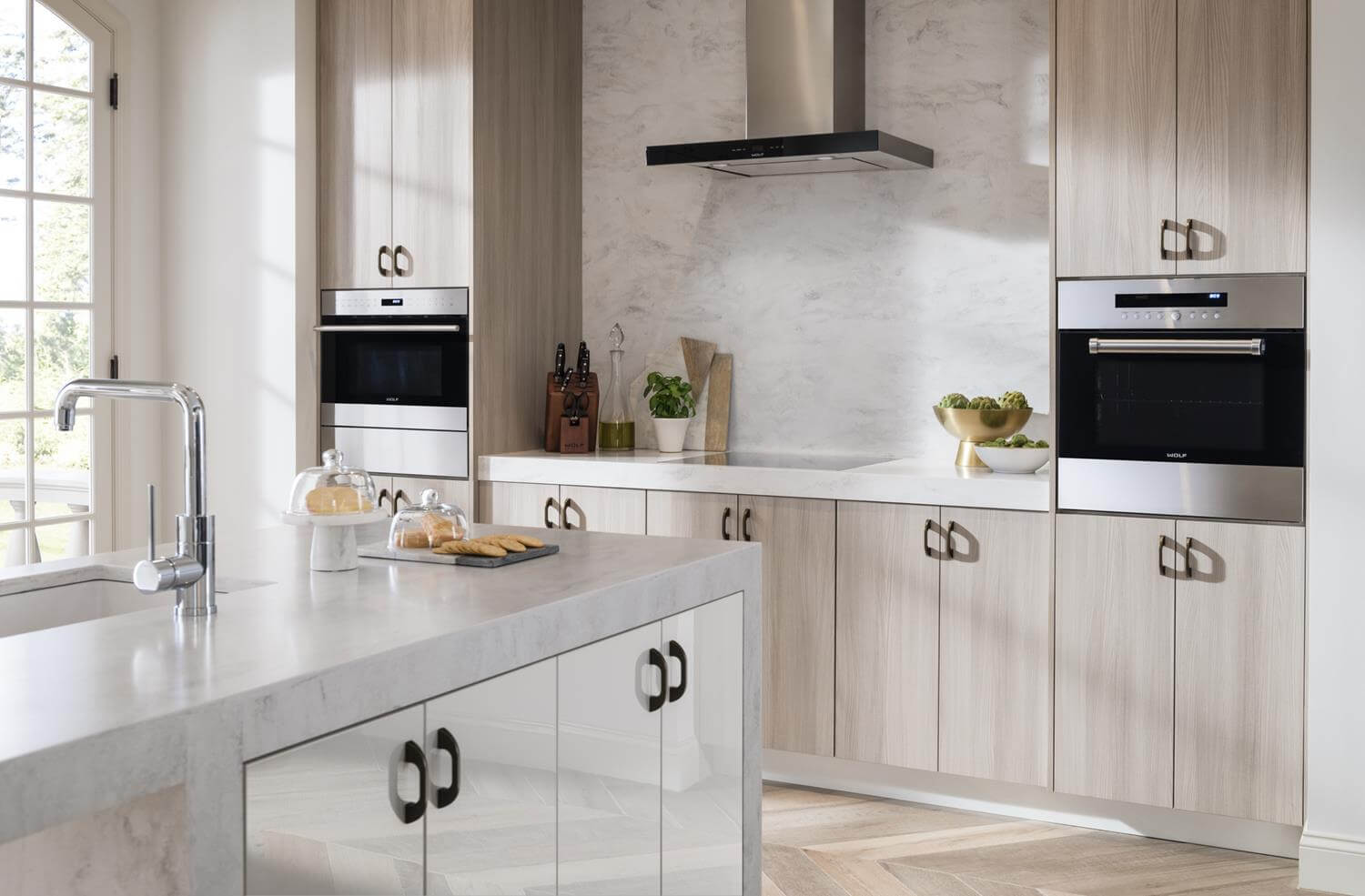 Raised Panel Cabinet Doors 
Raised Panel Kitchen Cabinet Doors are the go-to choice for traditional style kitchens. 
These doors are beautifully designed. Their carved detailing gives the illusion of depth on the cabinet face. 
Unlike the simple design of slab and shaker cabinets, the center panel is carved out or raised.
The edges of the interior rim are grooved or available in other decorative options.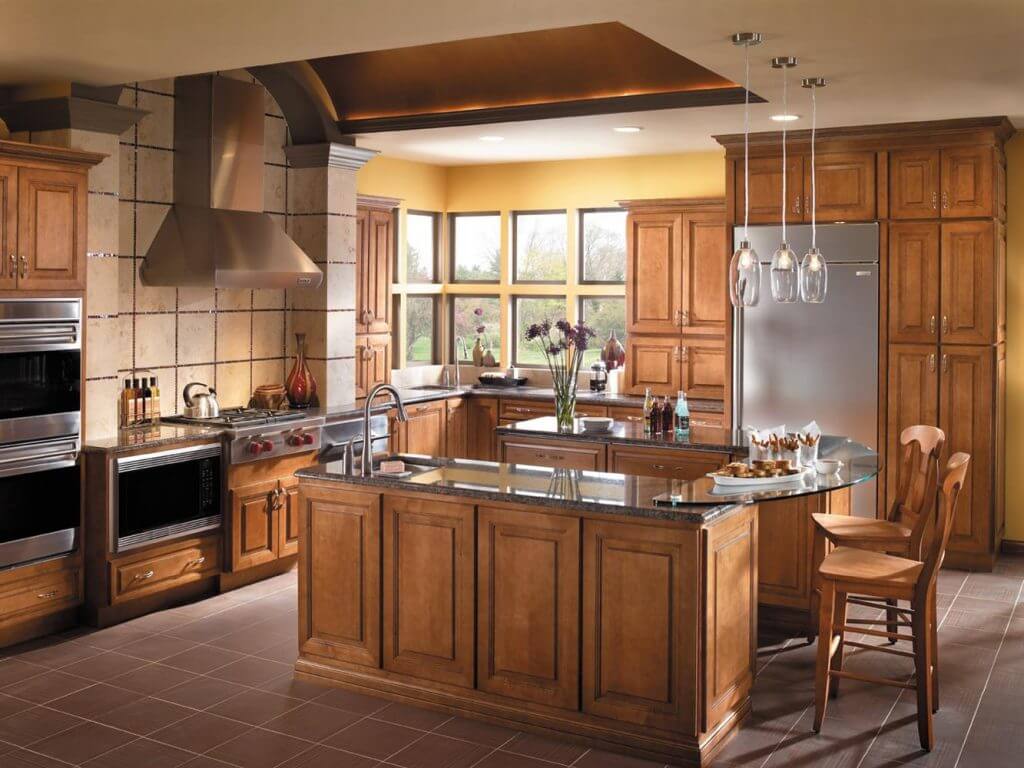 Recessed Panel Cabinet Doors
Recessed panel cabinet doors also fit traditional style kitchens, although they can also be found in other transitional kitchens as well.
As opposed to the raised panel door, the recessed kitchen cabinet door does not have a raised center panel. 
The center panel is carved inward and may come in a variety of designs and styles (curved line, straight line, multiple lines, etc). 
Technically, shaker cabinets are a type of recessed panel cabinet. However, shaker cabinets do not have any complicated adornments or carvings.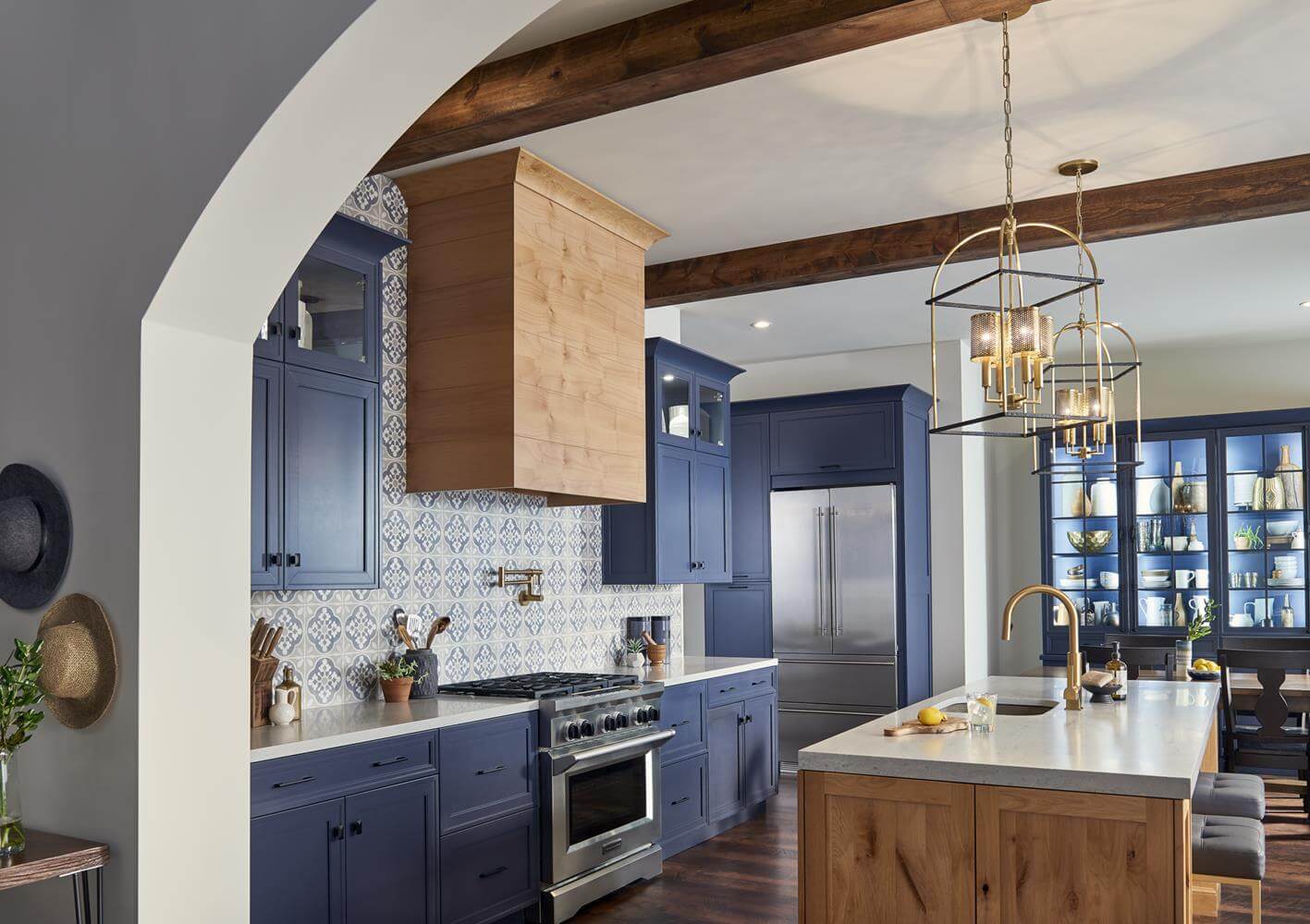 3 Cabinet Door Types
The type of cabinet door you choose is another styling element that can bring your preferred kitchen style to life.
You can choose between overlay and inset cabinet doors. 
(Check out our post outlining the pros and cons of overlay and inset cabinets!)
To start, there are 2 types of overlay cabinet doors: partial and full overlay.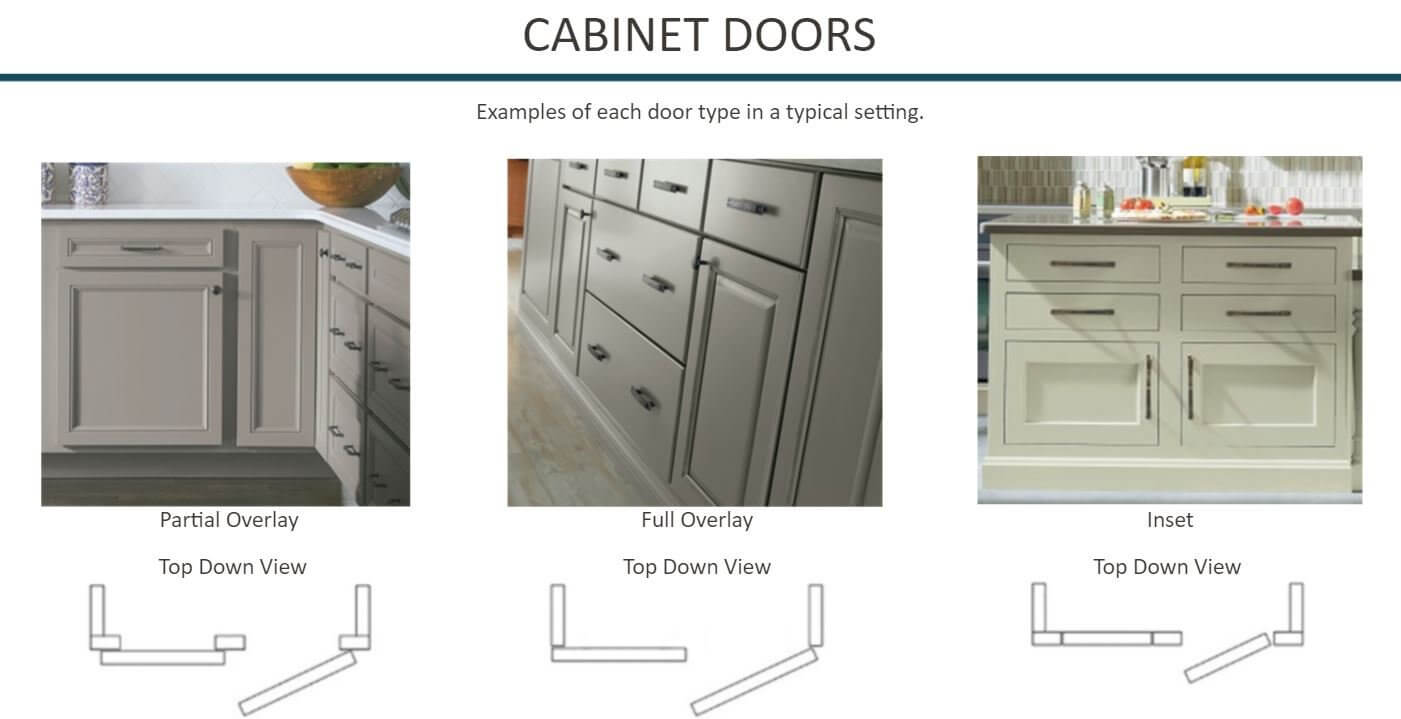 Partial Overlay Cabinet Door
Standard overlay doors (or partial overlay) partially cover the cabinet face frame when closed. 
Because about 1" of the cabinet box is visible, there is no need for hardware in order to open the doors (unless you choose to have hardware, of course!).
This is because that one-inch gap gives you enough space to open the doors with your hands/fingers.
Partial overlays also cost less than the other 2 types of doors. 
Full Overlay Cabinet Door 
When a full overlay cabinet door is closed, the door covers most of the cabinet box frame.
In general, only about ¼" is left exposed, meaning that hardware is necessary to open these types of doors.
Full overlay doors provide the appearance of a flush finish for a streamlined look.
Inset Cabinet Door 
As opposed to the 2 types of overlay doors, inset cabinet doors do not lay on top of the frame when closed.
Instead, these inset doors and drawers rest inside the cabinet box frame for a completely flush appearance.
Because the door is set into the cabinet frame, hardware is required to open inset drawers and doors. 
It's also important to note: inset cabinets are the most expensive of the three.
(But we can help with that!)
Custom Kitchen Cabinets Direct 
At iCabinetry, you'll find affordable custom kitchen cabinets, ranging from full and partial overlay to the most affordable custom inset cabinets available.
Our cabinetry is sold and sent directly to you, without a middleman (or the additional costs associated with that!).
If you're curious about pricing or have questions about your specific kitchen project, reach out to us!
Fill out our contact form or give us a call at 877-800-0420. One of our team members is standing by, ready to help.