Now that the calendar has flipped to February, 2015 is settling in comfortably as our New Year's resolutions are hanging on by a thread, but that doesn't mean all your goals for 2015 need to be washed away on the doorstep of Spring. If you've made a resolution to upgrade your kitchen or bathroom this year, now is the perfect time to take a look at a classic cabinet design that can add a touch of style to your kitchen or bathroom remodeling project, while keeping function high on the list.
Originally created by the Shaker community in upstate New York back in the mid-1800's, Shaker furniture was characterized by its minimalistic, yet sturdy design. Rather than using fancy design aesthetics, the Shakers developed "creative solutions such as asymmetrical drawer arrangements and multipurpose forms to add visual interest." Utilizing wood native to the area, Shaker furniture was often made out of cherry, maple of pine lumber, which was then stained or painted with one of the colors which were dictated by the religious sect, typically blue, red, yellow or green. [1] And who said God didn't care about style?!
The Shaker design has lasted for almost 200 years because it is highly functional and gives a classic feel to even the most modern kitchen, but that doesn't mean that your kitchen or bathroom remodel has to stick to the original design from 1850. Originally, most Shaker cabinets featured wooden nobs and handles, but over time this has changed, allowing the sturdy construction of the cabinets to be supplemented with creative flares, such as vintage ceramic pulls, pewter handles and as many color combinations of wood species and stain that you can come up with. Below are a few options showing how Shaker cabinets can bring the 1850's into the 21st century…
Highly functional with the ability to be modern, traditional, rustic or contemporary, Shaker cabinets are the perfect cabinet for whatever type of kitchen or bathroom remodeling project you have in mind. So get rid of the resolutions you've already broken and reset the list…your new kitchen is waiting.
---
[1] Source: Wikipedia (http://en.wikipedia.org/wiki/Shaker_furniture)
Shaker White Cabinets and Stainless Steel Accessories
Shaker Paint Kitchen
White Shaker Painted Cabinets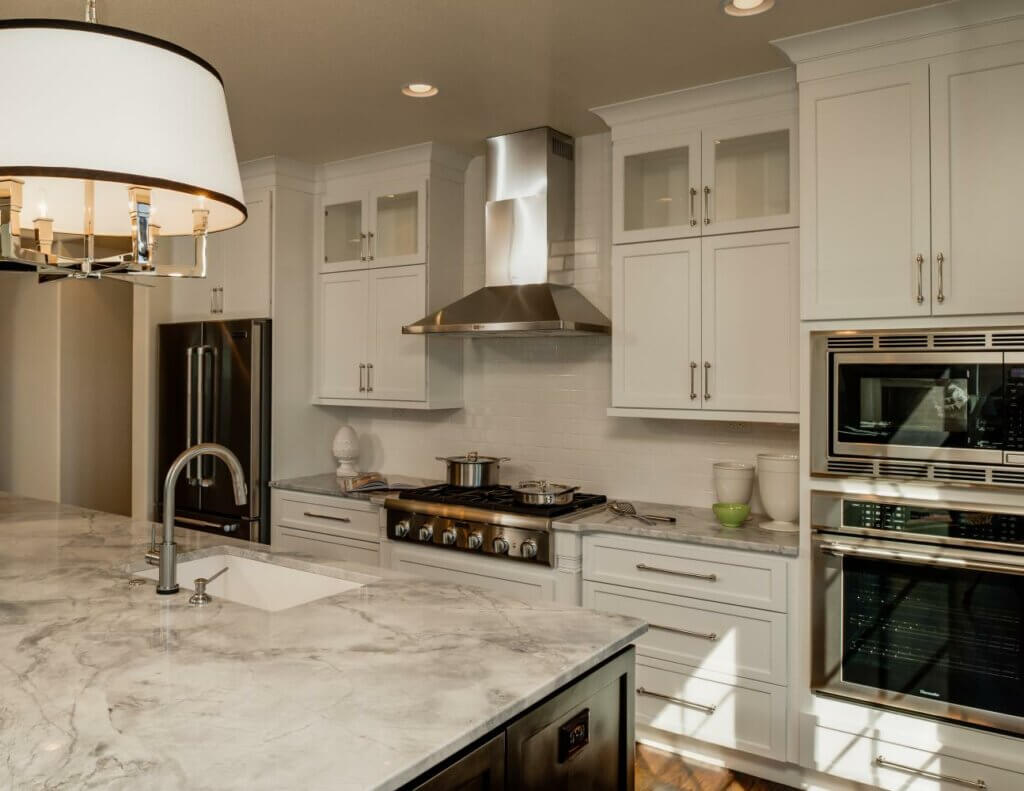 Shaker White Cabinets and Light Grey Walls