Inset Cabinetry
Do you need the perfect style of inset cabinetry to complete your kitchen project? The perfect cabinets don't have to come at a price that breaks the bank. Choose iCabinetry and your custom inset cabinets can be made for your kitchen at wholesale prices.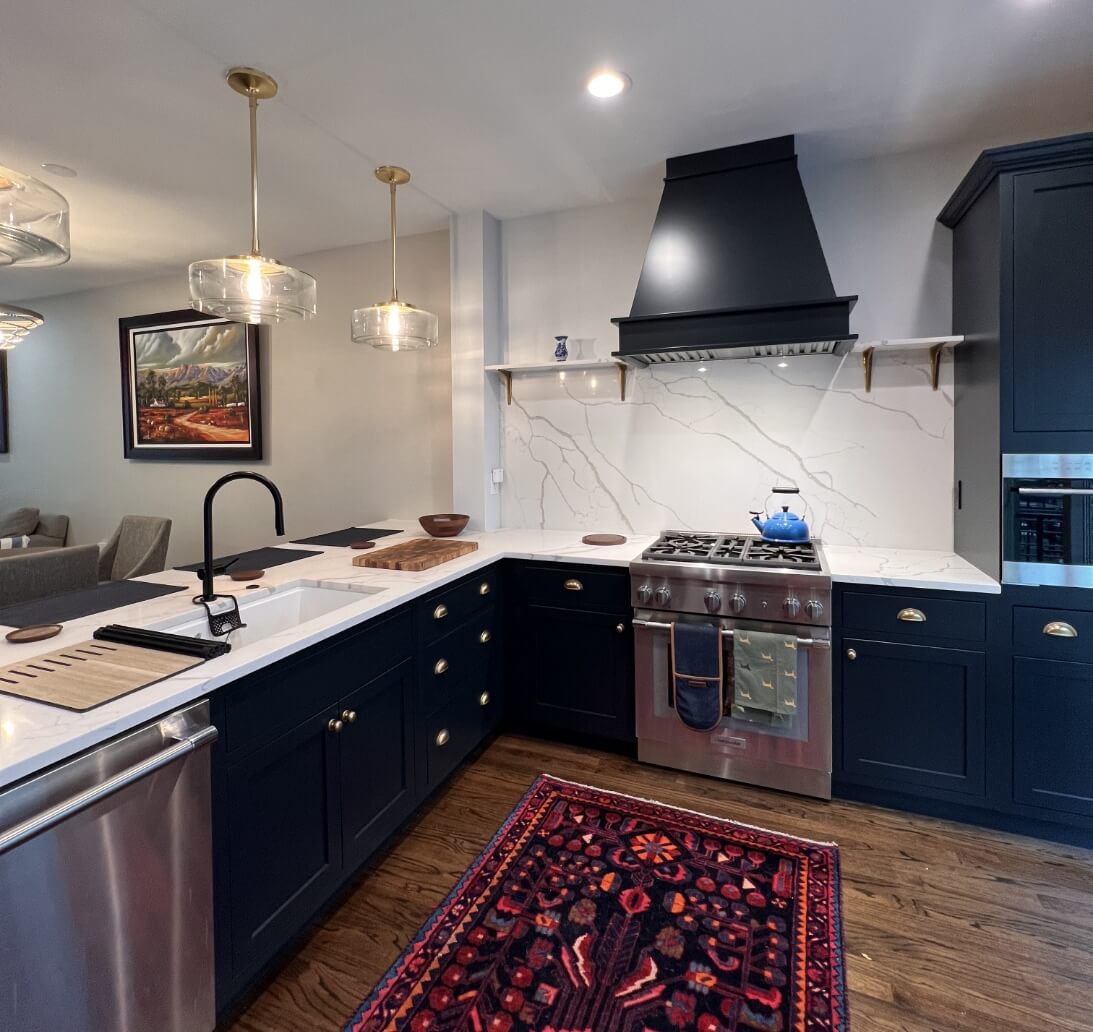 Why Inset Cabinetry Is the Perfect Choice
No matter what type of kitchen remodel you're looking for, inset cabinetry features options for your cabinet doors, cabinet face frames, edge detail, storage space, and style. This all embodies fine craftsmanship and the spacious, functional look that you're going for in your soon-to-be beautiful kitchen.
Our Inset cabinetry features doors and drawers that are custom-made to your tastes and specifications. You can create your own look and make sure that every piece will fit inside your kitchen seamlessly.
As an iCabinetry customer, you have direct access to the highest quality of products currently available, including all the unique choices that many homeowners want in their cabinets and cabinet doors.
Once completed, our products are distributed and delivered with efficiency and attention to detail so that your high-end cabinets are ready for installation and use right away.
What Sets iCabinetry Apart
Our kitchen cabinet designers are experts trained in the latest design software programs. They know how to create highly detailed 3D images of your inset kitchen cabinets that will fit perfectly in your space.
Our team consistently receives awards from the BBB and Houzz year after year. No one does inset cabinets better than we do!
You won't find higher quality or better prices on inset cabinets at a costly showroom, or a big box store, or anywhere else. Many homeowners want to see all of the options available to them, and all of our cabinetry is displayed in our virtual showroom. This means there aren't any extra costs that get passed on to the customer.
The iCabinetry Process
We make your kitchen cabinets through a tried-and-true process with four simple steps. Then, you'll have the exact inset cabinets to meet your needs and complement your other unique kitchen designs.
01
Pick Your Match
Peruse through our many products and selections of custom colors, styles, and cabinet components.
02
Get Your Free Quote
Make your selections and we will go over your project details to create a firm, fair quote.
03
Order Your Inset Cabinetry
Once you're satisfied with your cabinet choices and have confirmed that the quote meets your budget, you'll simply pay via our secure online platform and sign with an e-signature.
04
Quick & Easy Installation
We'll create your cabinets with fine craftsmanship and get them delivered to you. Then, you'll use our easy, helpful resources to learn how to install your cabinets so you can enjoy your kitchen cabinetry.
Upgrade to Inset Kitchen Cabinets
iCabinetry Custom Inset by Starmark Cabinets
Each of our inset cabinetry styles feature doors and drawers made of nine separate components, each that evokes fine craftsmanship synonymous with Starmark. You have options for each of these cabinet components, so your selections are truly what works best for your family and your kitchen cabinets.
End Panel Material
These are the sides of your inset cabinets, or what you'll see if there isn't another cabinet on one end. Each side panel is made with 3/4″ hardwood unfinished plywood veneer core. You have the option to upgrade the sides to furniture finished if needed.
Top & Bottom Cabinet Frames
Both the top cabinet frame and the bottom cabinet frame are made with 1/2″ hardwood plywood veneer core. This ensures that your dishes and valued kitchen items are safe and secure in your kitchen cabinets.
Back Panel Material
The back panel of your inset cabinets is made of 1/2″ hardwood plywood.
Interior Finish
Your inset cabinets feature an interior finish of natural birch melamine. If the fine craftsmanship of a stained matching veneer or natural maple veneer better suits your tastes, say the word!
Shelf Material
Each sturdy shelf is made with 3/4″ hardwood plywood. This assures that every standard cabinet is strong and secure. You can have more storage and beautiful cabinets at the same time!
Base Cabinet Shelf
The base cabinet shelf in a standard cabinet comes in at a depth of 2/3″. However, your cabinetry can be built with full-depth shelves, too.
Drawers and Roll Trays
Have you ever wanted a cabinet with roll-out drawers behind the doors? You're in luck! Our inset cabinet drawers and roll-out trays are made with 5/8″ hardwood material and dovetail joints. Each come with the soft-close, full extension feature along with under-mount hardware. You can also choose walnut drawers and roll trays as an option as well.
Face Frame
You have the option of either beaded or flush inset doors for your frames on your inset cabinets.
Door Hinges
Every hinge on your inset cabinets is concealed and has a soft-close feature. You can also choose a full-wrap finial hinge to complement your flush inset doors. These hinges have a modern design and come in five colors: black, copper bronze, dark oil-rubbed bronze, matte nickel, and pewter.
More Features and Options for Cabinet Doors and Drawers
Maybe you think all of these options are enough to create your own look for your custom cabinet doors and drawers. There's more fun to be had, though!
Drawer Header Options
Each of your drawer headers can come in three beautiful patterns to complement your inset cabinet doors.
Five-piece drawer header – Available on all inset doors and drawers.
Rolled profiled drawer header – Available on the Allentown, Laforest, Montico, and Rock Elm inset cabinetry.
Scooped profiled drawer header – Available on the Danburg and Merrimac inset cabinetry.
Inset Cabinet Colors & Finishes
We have dozens of choices for your inset cabinets, including tinted varnishes, specialty colors, and distressing options that will give your kitchen cabinets the flair and style you crave.
If you go with the Maple cabinetry, you have the option of Amaretto, a classic black finish that goes great with Old World distressing.
Or, you could choose from the Villa line, showing unique detailed brush strokes. The Villa technique is available in seven shades, such as Ebony, Marshmallow, and Pearl.
Our Cherry inset cabinets are further enhanced by Chateaux, which combines several distressing techniques to soften the edges and create eye-catching shadowing.
Perhaps you've chosen Alder or Rustic Alder inset cabinets. These go great with Antiquity, which gives a time-worn look.
Or you could choose the Homestead color, which uses heavy random distressing to create a durable, generations-past look indicative of a cozy farmhouse.
Our Cottage distressing technique helps create a sweet, welcoming look on your inset doors. The rounded corners and worn edges give a homey feel. You can also opt for a light chain distressing. Cottage is available on inset doors in any stain-glaze combination or any tinted varnish-glaze combination.
Then there's the Old World distressing, which gives inset cabinets a vintage-inspired look. This takes new inset kitchen cabinets and randomly distresses areas with rounded corners, rasping, dips, knife cuts, wormholes, worn edges, and light chain distressing. You've never seen custom door with this much character!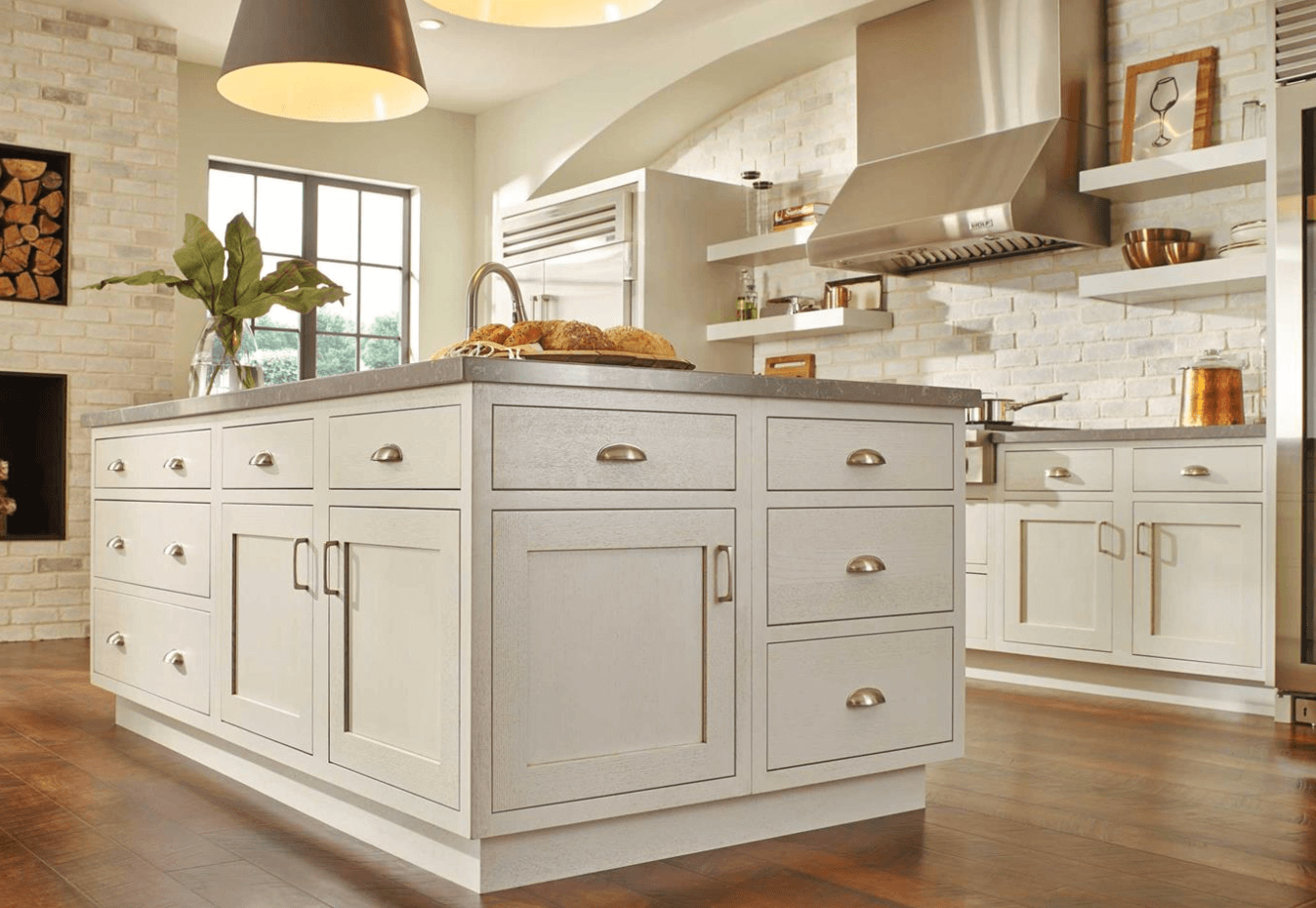 Styles of Inset Cabinets and Glass
Your inset cabinets can also come in a variety of paned styles to enhance your door choices.
First, choose from 15 different wood accents for the front of each cabinet door in your inset kitchen cabinets.
Then, you can choose from seven glass styles and a variety of patterned, basic, or tempered glass inserts to accentuate your tastes.
Wood Types for Inset Kitchen Cabinets
Of course, you also get to choose the perfect wood for your inset cabinets. Each wood type has particular characteristics and features that bring a unique feel to your inset doors.
We carry Alder, Rustic Alder, Cherry, Maple, Quarter Sawn Oak, Walnut and more.
No matter what you want your kitchen to exude, we can make it happen with inset cabinets in your perfect wood grain and finish.
When you choose iCabinetry and Starmark, you're also choosing sustainability. All of our wood is sourced with the highest standards of environmentally responsible harvesting, so you know your inset cabinets were ethically produced.
Starmark is also a part of the Kitchen Cabinet Manufacturers Association Environmental Stewardship program. This program recognizes businesses that have shown a commitment to sustainability.
Starmark never stops at the base level, though; their requirements for sourcing and creating your custom cabinetry always go above and beyond.
Recent Customer Inset Kitchens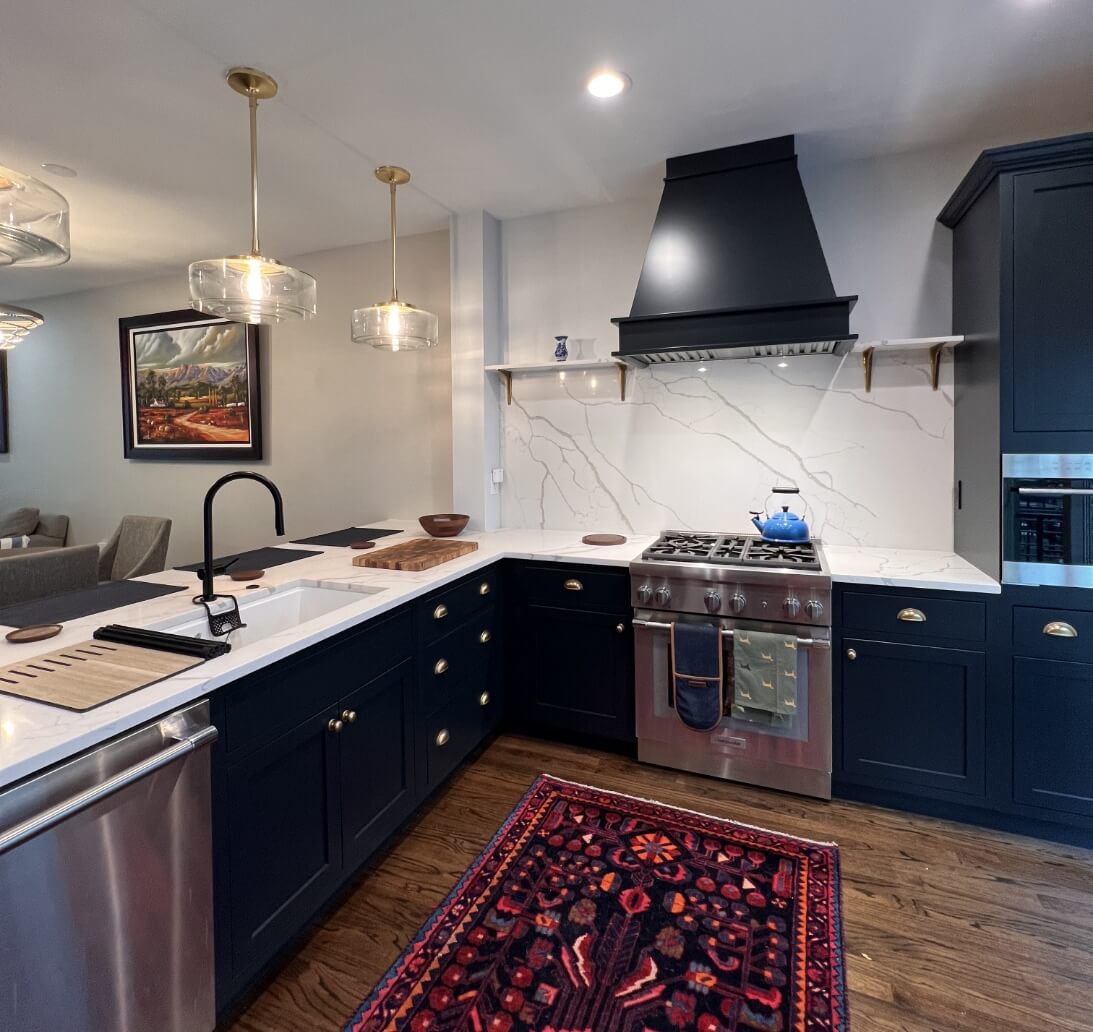 Get a Free Quote
Fill out the form below and an iCabinetry representative will reach out to you to provide you with a free, personalized quote on your new inset kitchen cabinetry
"*" indicates required fields